Dear Brothers and Coordinators,
Re: Anniversary Musical Drama - a unique centenary celebration event for WY
With original compositions and lyrics by alumni (including accomplished composer Leon Ko Sai Tseung), students and teacher, the WY anniversary musical drama "Legacy" promises to be a wonderful evening of music, theatre, and memories. There will be guest appearances by Fathers, Principals, PSA and PTA as well!
Shows: a) 17/1/2020 (Fri) 7:30pm; b) 18/1/2020 (Sat) 2:30pm; c) 18/1/2020 (Sat) 7:30pm
Venue: School Hall, WYHK
Please order tickets NOW with the form below (also downloadable at school website: http://web.wahyan.edu.hk/)
See you at the show!
YL So (WYHK 77)
Co-producer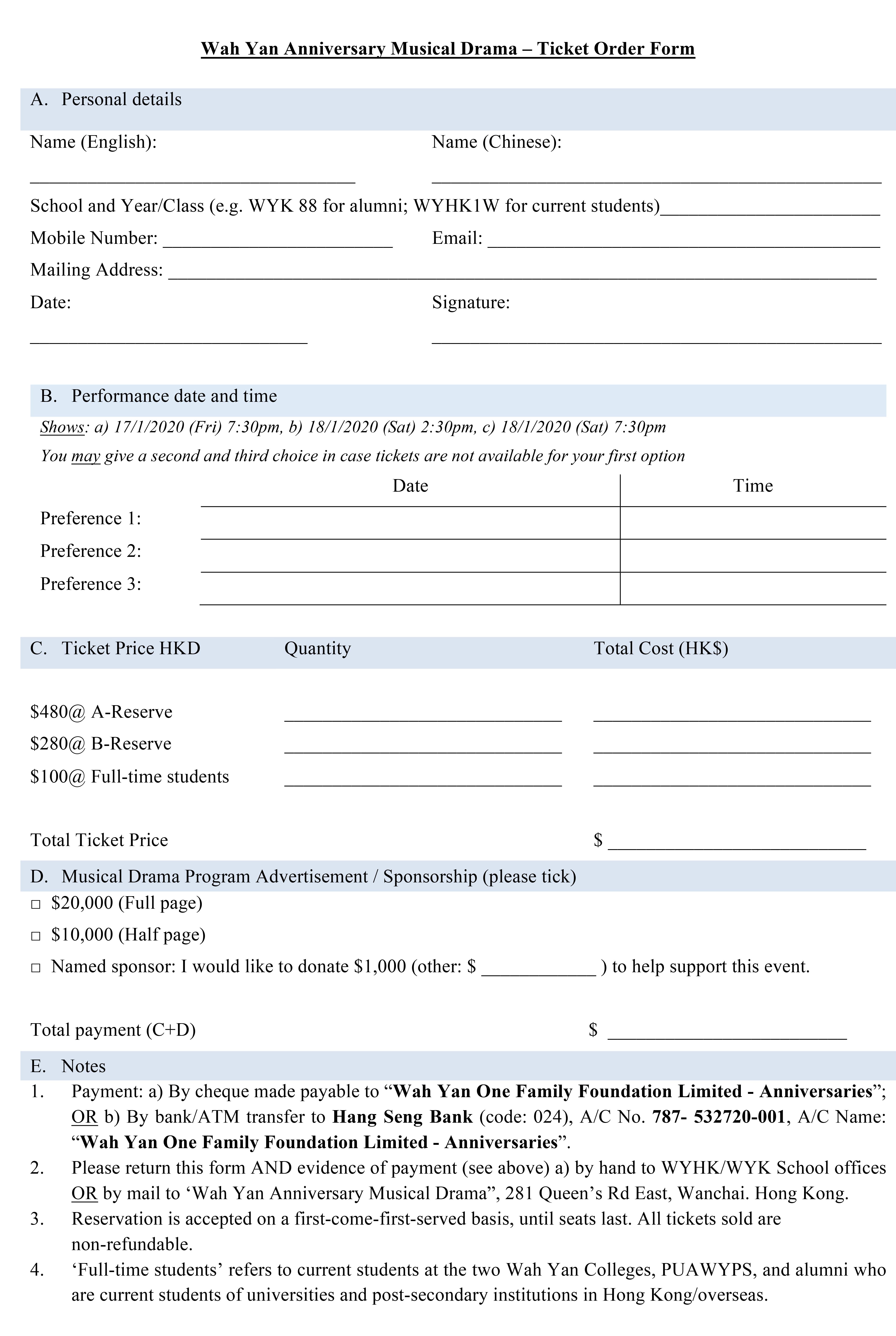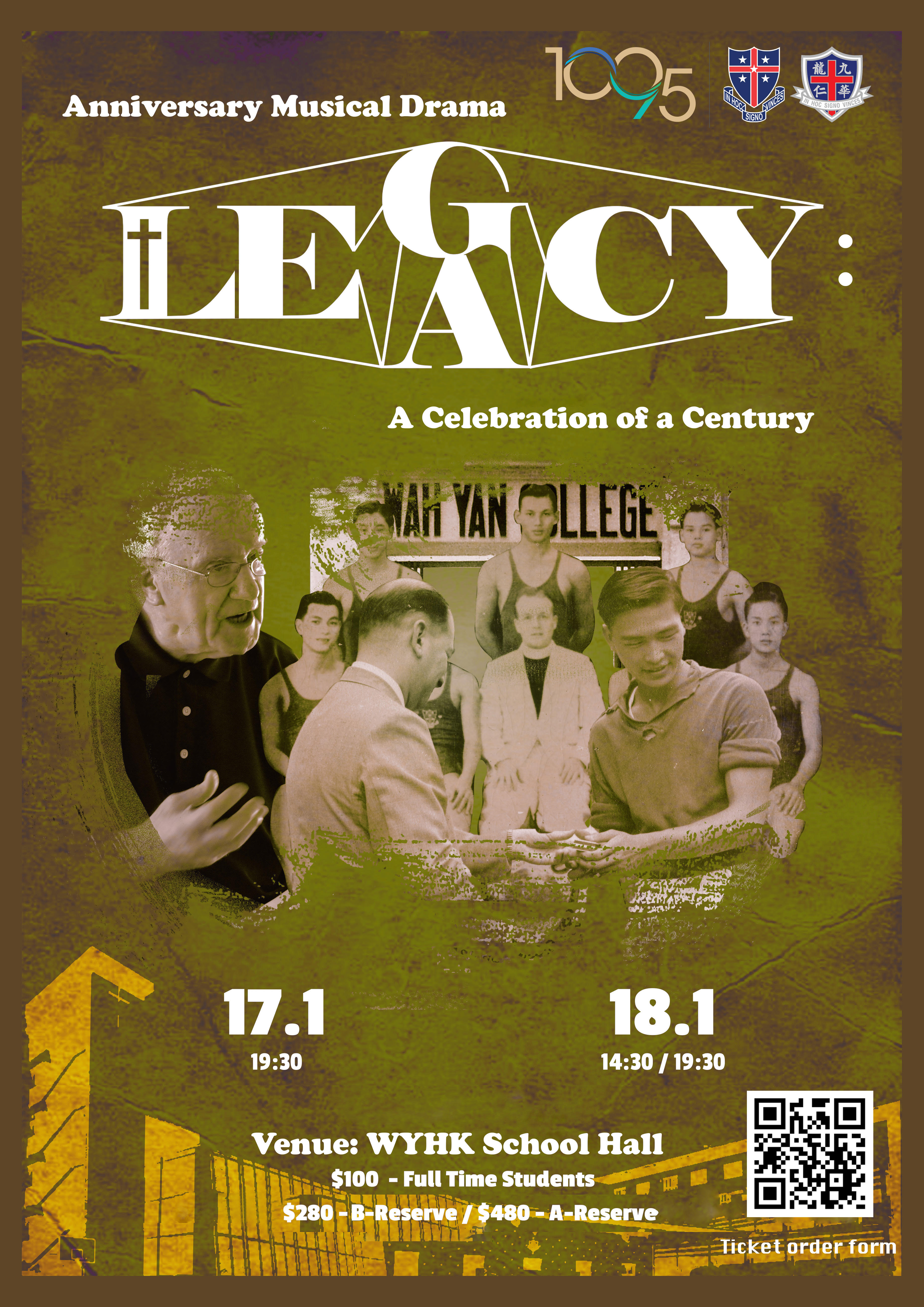 The new date of Gala Dinner will be held on Jan 30, 2020.
For details, please find details on below official announcement.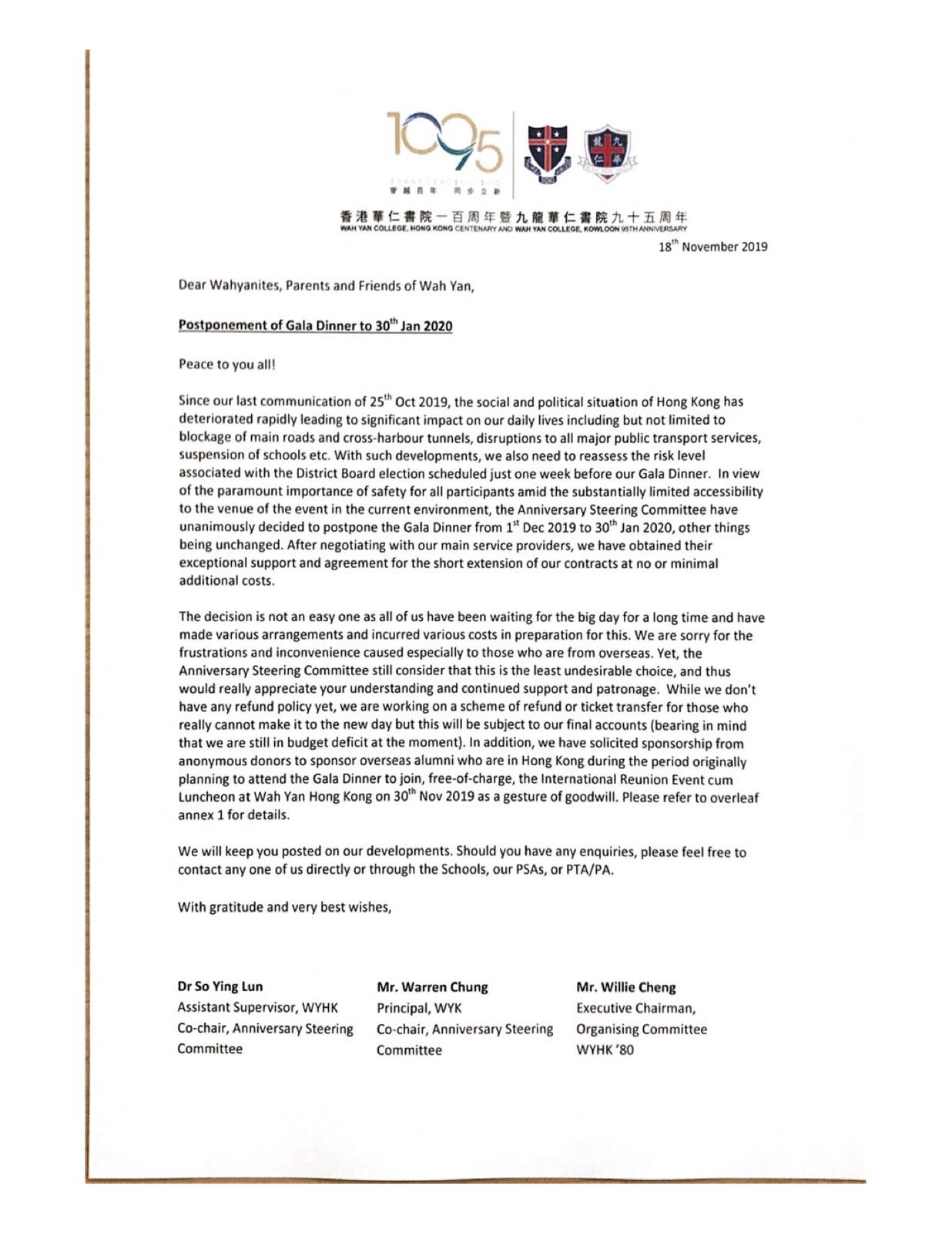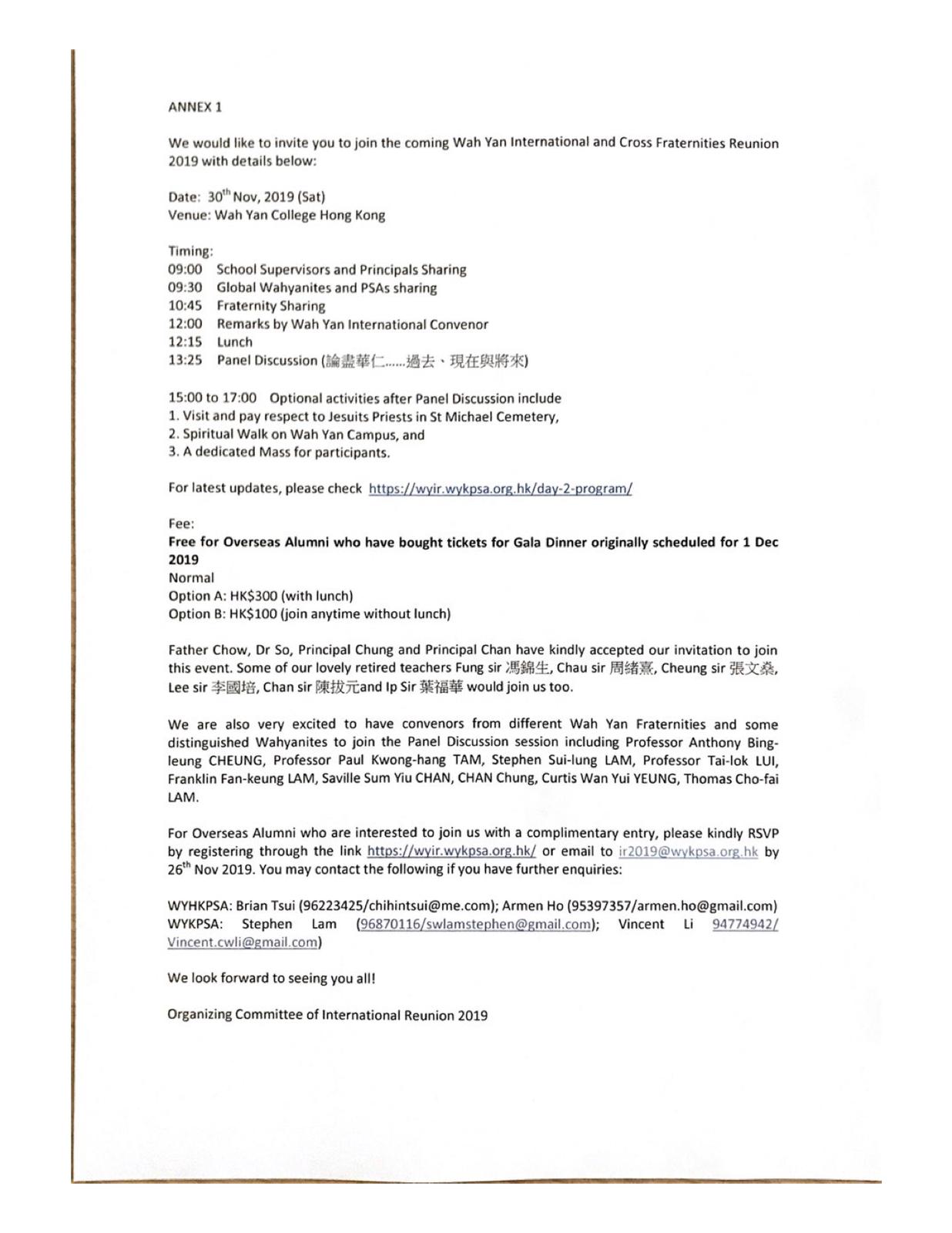 Wah Yan Transcending 100 Centenary Scarf is waiting for you to order!
The Centenary Scarf, designed by students and alumni from two Wah Yans, show the unity, brotherhood and the way forward by transcending the time as one family.
Made of nylon-wool mix, the full-sized art piece is a must-have for every Wahyanite. The Centenary Scarf is now available at HK$250. Order now as only limited stock is available.
Order can be picked up at both WYHK and WKY in late November 2019. Proceeds from sales will be dispersed to support the continued development of the two Wah Yan Colleges.
Dimension: 162.5 cm x 25.5cm
Material: Nylon-wool mix
- For delivery, please expect shipment will be arranged after Dec 2019.
** 送貨方法 **
- Pick up at school at $0
- Centenary Scarf 專用 本地送貨 at $50 (Hong Kong Island, Kowloon and N.T. only)
Order URL: http://bit.ly/32bOOEy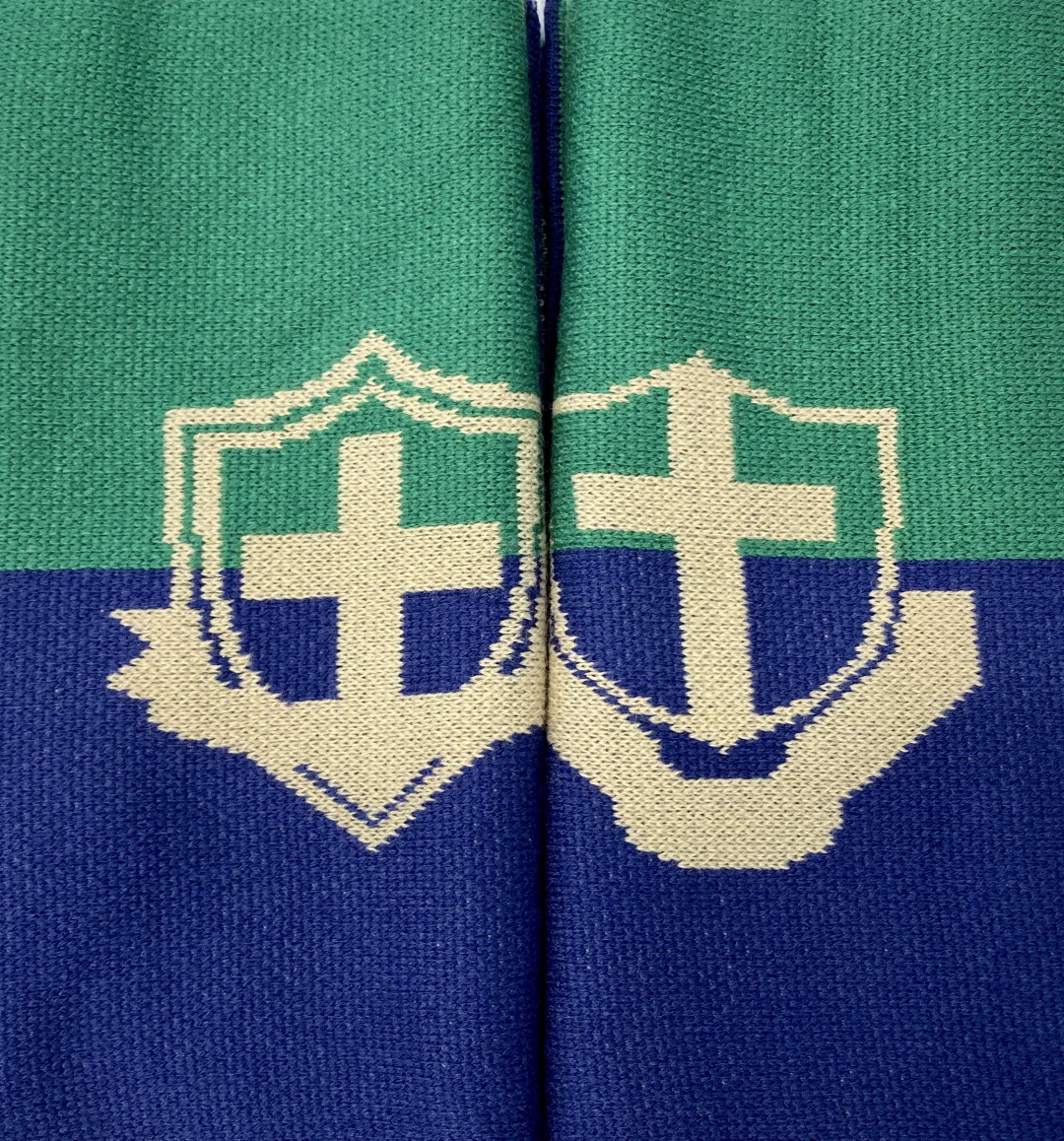 Wah Yan Transcending 100 Pocket Square is now on sale!
With a view to celebrating Wah Yan Transcending 100th Anniversary, WYHKPSA and WYKPSA are delighted to present the one and only signature Pocket Square in collaboration with Ascot Chang.
Material: 100% silk
Size: 33cm x 33cm 
Early Bird: $550  (Order before 31st December 2019)
Original Price: $650
- Delivery is expected in Dec 2019.
** 送貨方法 **
- Pocket Square 專用 Pick up at school for $0
- Pocket Square 專用 本地送貨 for $50 (Hong Kong Island, Kowloon and N.T. only)
Order URL: http://bit.ly/2NsYgy9