Notice of Annual General Meeting 2020
NOTICE IS HEREBY GIVEN that the 51st Annual General Meeting of the Association will be held at 10:00 a.m. on Saturday, 27 June 2020 at the Rooftop Classroom of the School Hall, Wah Yan College, Hong Kong for the following
purposes:-
1. To confirm the minutes of the 50th Annual General Meeting held on 17 June 2019;
2. To receive the Chairman's Annual Report for the year 2019-2020;
3. To adopt the Auditors' Report and Financial Statements for the year ended 31 March 2020;
4. To elect Council Members, President, Vice-Presidents, Honorary Advisors and Honorary Legal Advisors for the year 2020-2021;
5. To appoint Auditors; and
6. To transact any other business of the Association.
Note:
1. In view of the current COVID-19 situation, attendees are required to wear masks during the meeting and to observe other hygienic precautions.
2. The meeting shall be adjourned until further notice if the "Prohibition on Group Gathering" ban has not been lifted by then.
3. Copies of the relevant minutes, reports and accounts will be distributed at the meeting. They are also available for inspection upon request. Please contact the Honorary Secretary to the Council, Dr. Cheng Chi Kin Ashley, on 29902802 during office hours to make arrangement for inspection.
4. Please note that there will be no formal lunch gathering after the Annual General Meeting.
- 2020.05.25 - Cheng Chi Kin Ashley '80 (Honorary Secretary)
ANNOUNCEMENT – ALUMNI MANAGER ELECTION & VOTERS' REGISTRATION
To all Alumni of Wah Yan College Hong Kong
Notice is hereby given that pursuant to the Education Ordinance (Cap. 279), a vacancy for Alumni Manager will arise on 1 September 2020.
As the recognized alumni association responsible to conduct election of Alumni Manager, Wah Yan College (Hong Kong) Past Students Association invites you to register as a voter for this election and to nominate a candidate for the election.
To register as a voter, you have to fill and submit an electronic registration form and your identity will be verified by the School to confirm you are an alumnus. Upon successfully registered, your name will be recorded in our voters' registrar and on the Election Day, you need to appear at the Election Venue in person to collect a ballot to cast your vote. If you have previously registered as a voter for Wah Yan College Hong Kong Alumni Manager's Election, you do not need to register again.
Please refer to the document "Procedures for Alumni Manager Election" and its 4 annexes which have clearly outlined the relevant details about the Alumni Manager's candidature, nomination, election, duties and the 2020 Election Schedule. The Alumni Manager Nomination Form per Annex 1 has to be downloaded to complete and thereafter it should be submitted to the Returning Officer by email only with a personal information write up on or before the closing of the nomination period.
The closing date of voters' registration and Alumni Manager nomination is 12 June 2020. The profile of all eligible candidates for the Election will be posted on the websites of Wah Yan College Hong Kong and Wah Yan (Hong Kong) Past Students Association from 19 June 2020. The Election will be held at the School Campus on 26 June 2020.
All personal information collected in the course of this voters' registration and Alumni Manager nomination will only be used for the purpose described and will be preserved in accordance to the Privacy Data Ordinance.
Peter Tang
Returning Officer
Wah Yan College Hong Kong
2020 Alumni Manager's Election
Email: This email address is being protected from spambots. You need JavaScript enabled to view it.
- 2020.05.13- Peter Tang '78 (Returning Officer)
Wah Yan Second Golf Tournament 2019
The second golf tournament organized by our Association for the year 2019 was adjourned to Wednesday, 22 January 2020 and was held at the New Course of the Hong Kong Golf Club in Fanling.  A total of 18 members participated in the match.
The final results were as follows:-
William Kwan Trophy – Gross Score
| | | | |
| --- | --- | --- | --- |
|   | Winner | : | Mr. Eugene Pak |
|   | Runner-up | : | Simon Lee |

Eric Ko Cup – Stableford
| | | | |
| --- | --- | --- | --- |
|   | Winner | : | Mr. Cheung Yuk Tong |
|   | Runner-up | : | Mr. Gordon Lee |

Other Winners
| | | | |
| --- | --- | --- | --- |
|   | Longest Drive on hole # 10 | : | Mr. Eugene Pak |
|   | Longest Drive on hole # 14 | : | Mr. Eugene Pak |
|   | Nearest to Pin on hole # 8 | : | Mr. Simon Lee |
|   | Nearest to Pin on hole #13 | : | Mr. Cheung Yuk Tong |
|   | Consolation Prize | : | Mr. Peter Tam |

Photo album:
https://imageevent.com/wahyan1974/secondgolftournament2019
- 2020.02.06 - Fong Hup '63 (Wah YanGolf Club Convenor)
Anniversary Musical Drama 
Dear Brothers and Coordinators,
Re: Anniversary Musical Drama - a unique centenary celebration event for WY
With original compositions and lyrics by alumni (including accomplished composer Leon Ko Sai Tseung), students and teacher, the WY anniversary musical drama "Legacy" promises to be a wonderful evening of music, theatre, and memories. There will be guest appearances by Fathers, Principals, PSA and PTA as well!
Shows: a) 17/1/2020 (Fri) 7:30pm; b) 18/1/2020 (Sat) 2:30pm; c) 18/1/2020 (Sat) 7:30pm
Venue: School Hall, WYHK
Please order tickets NOW with the form below (also downloadable at school website: http://web.wahyan.edu.hk/)
See you at the show!
YL So (WYHK 77)
Co-producer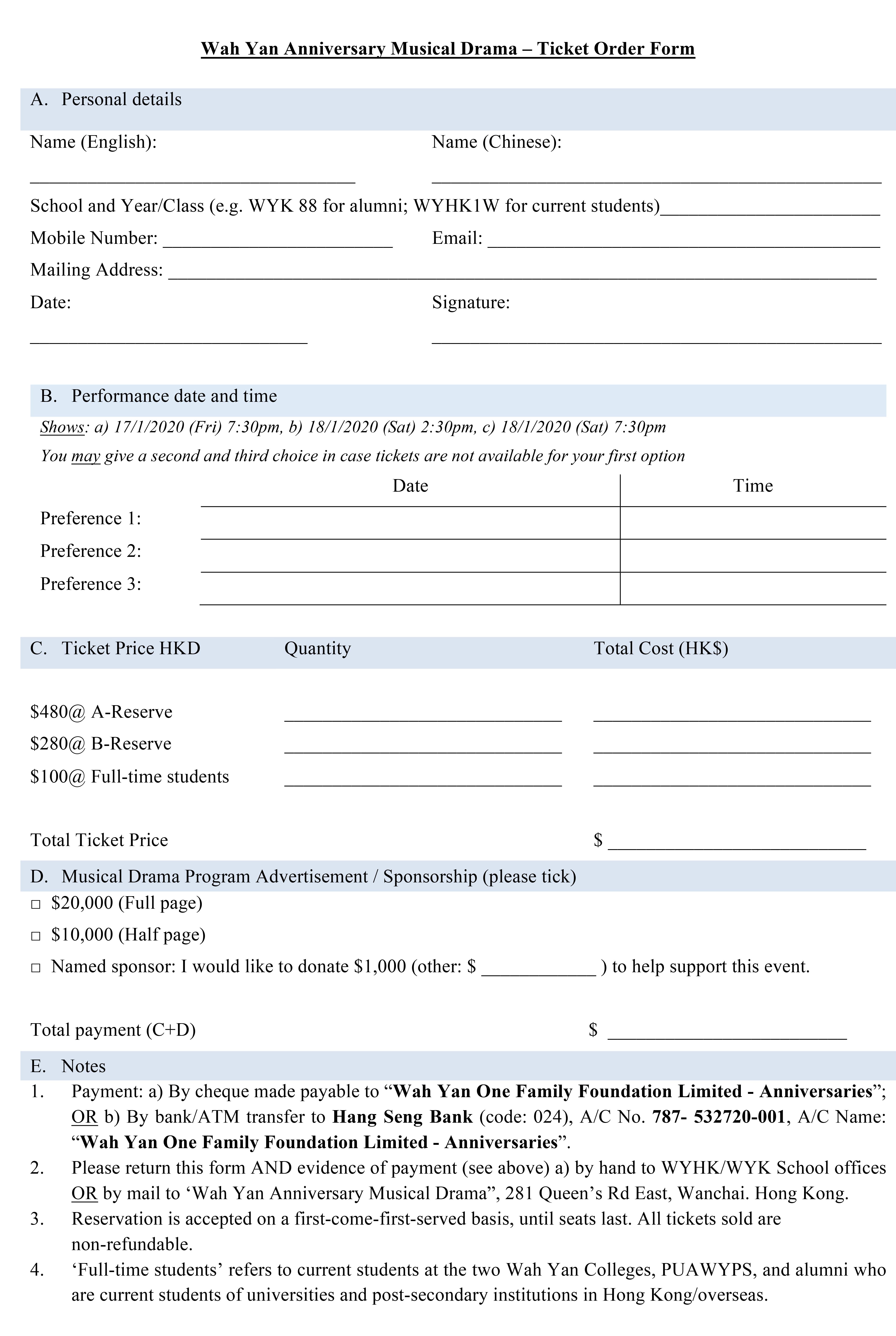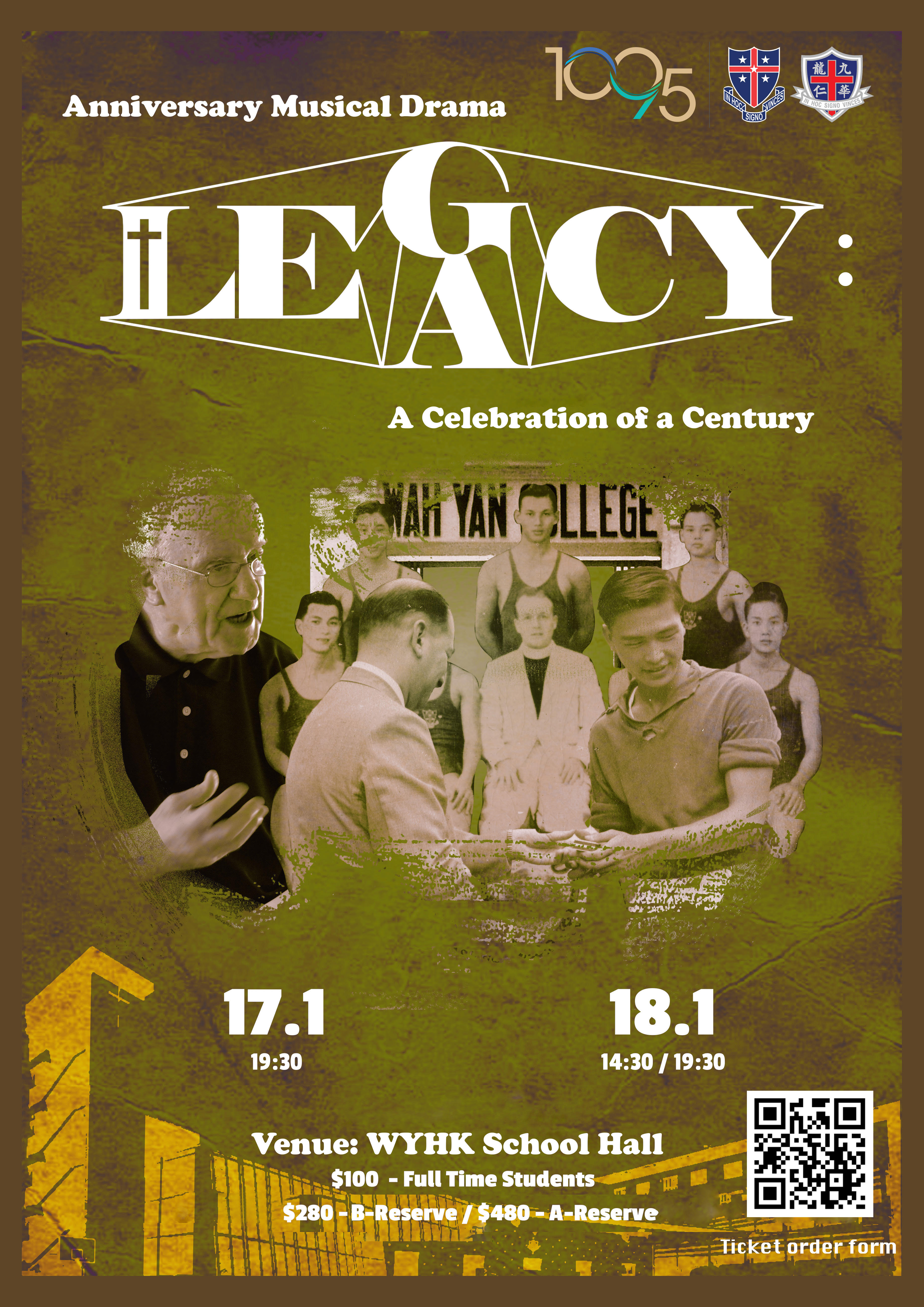 - 2019.08.16 - Alex Lau '95 (Webmaster Team)