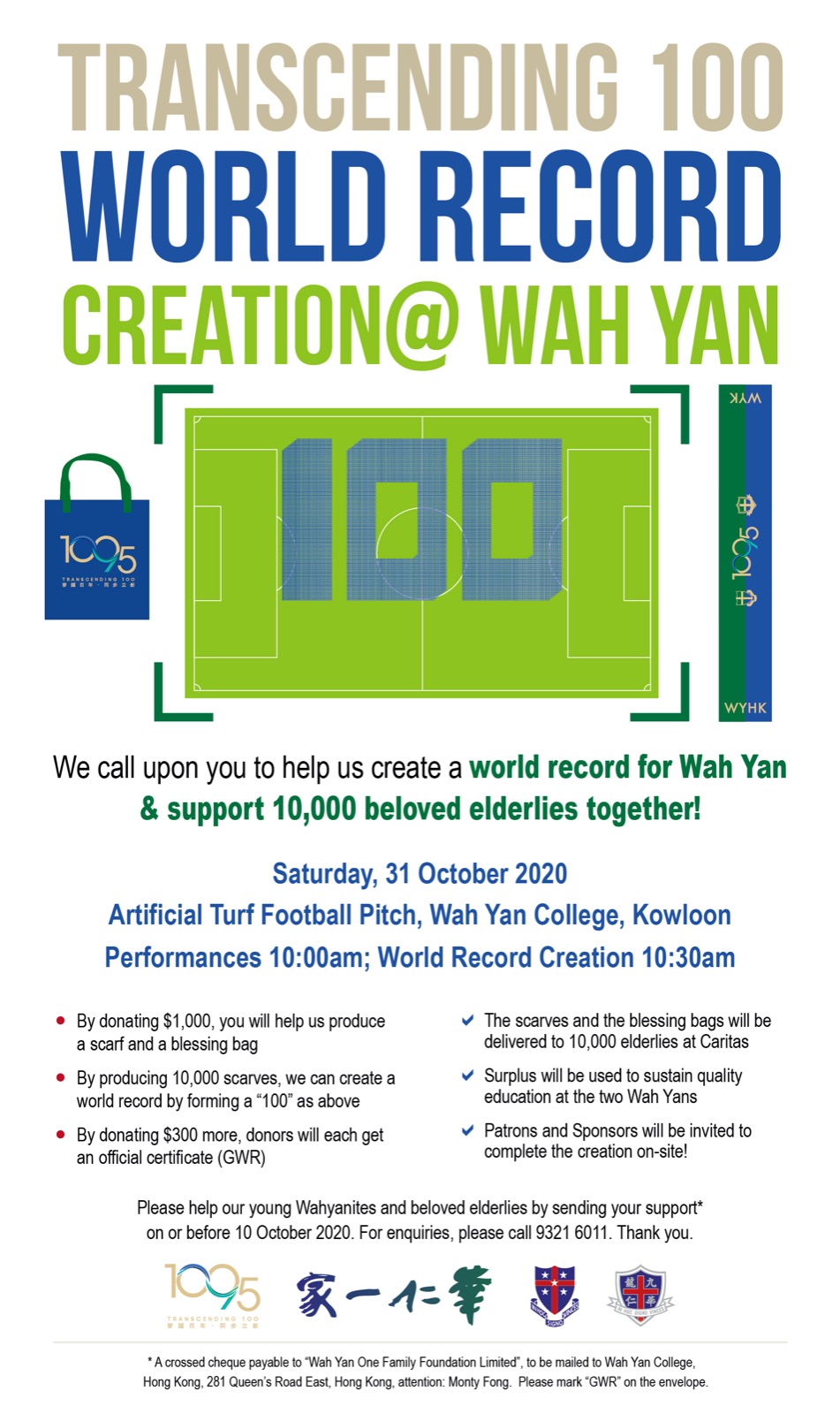 Please download the appeal letter here.
- 2020.07.31 - Webmaster Team
Postponement - Wah Yan 100th and 95th Anniversaries Mass of Thanksgiving
Dear Con-celebrant and Guest,

In view of the volatile situation of the COVID-19 pandemic and the exponential growth of confirmed cases of local infections over the past few days, the Organising Committee has come to a decision that the Anniversaries Mass of Thanksgiving is to be postponed until further notice.
Thank you for your attention.  Have a nice day.
- 2020.07.14 - Jo MIU (Executive Officer WYK)
ANNOUNCEMENT – 2020 ALUMNI MANAGER ELECTION & VOTERS' REGISTRATION
To all Alumni of Wah Yan College Hong Kong
Please be informed that the period opened for the 2020 Alumni Manager's Election Nomination and Voters' registration has ended.
Upon successfully registered as a Voter, your name will remain in our registrar and you do not need to re-register in all future Wah Yan College Hong Kong Alumni Manager's Election.
During the Nomination period, only one alumnus has submitted to me a valid Alumni Manager's Nomination Form with his personal information write up. Pursuant to our Procedures for Alumni Manager Election, his profile is posted on the websites of Wah Yan College Hong Kong and Wah Yan (Hong Kong) Past Students Association for your perusal. As there is only one valid candidate, the scheduled Voting at the School Campus on 26 June 2020 is no longer necessary.
The official result of this Election will be announced at the AGM of Wah Yan (Hong Kong) Past Students Association on 27 June 2020.
Nominee:
Dr. CHENG Chi Kin Ashley
Peter Tang
Returning Officer
Wah Yan College Hong Kong
2020 Alumni Manager's Election
Email: This email address is being protected from spambots. You need JavaScript enabled to view it.
- 2020.06.13 - Peter Tang '78 (Returning Officer)
Notice of Annual General Meeting 2020
NOTICE IS HEREBY GIVEN that the 51st Annual General Meeting of the Association will be held at 10:00 a.m. on Saturday, 27 June 2020 at the Rooftop Classroom of the School Hall, Wah Yan College, Hong Kong for the following
purposes:-
1. To confirm the minutes of the 50th Annual General Meeting held on 17 June 2019;
2. To receive the Chairman's Annual Report for the year 2019-2020;
3. To adopt the Auditors' Report and Financial Statements for the year ended 31 March 2020;
4. To elect Council Members, President, Vice-Presidents, Honorary Advisors and Honorary Legal Advisors for the year 2020-2021;
5. To appoint Auditors; and
6. To transact any other business of the Association.
Note:
1. In view of the current COVID-19 situation, attendees are required to wear masks during the meeting and to observe other hygienic precautions.
2. The meeting shall be adjourned until further notice if the "Prohibition on Group Gathering" ban has not been lifted by then.
3. Copies of the relevant minutes, reports and accounts will be distributed at the meeting. They are also available for inspection upon request. Please contact the Honorary Secretary to the Council, Dr. Cheng Chi Kin Ashley, on 29902802 during office hours to make arrangement for inspection.
4. Please note that there will be no formal lunch gathering after the Annual General Meeting.
- 2020.05.25 - Cheng Chi Kin Ashley '80 (Honorary Secretary)