Transcending 100 Gala Dinner (UPDATED)
Venue: Grand Hall & Hall 3B, HK Convention & Exhibition Centre | Date: 1 Dec 2019 (Sun) | Time: 6 - 10:30 pm | Price: HK$18,000 per table of 12
Dear Wahyanites & Friends of Wah Yan,
Further to our table registration announcement on 3 Mar 2019, we have received overwhelming responses from all over the world thanks to the tremendous support from you. We have since worked towards securing an increase in venue capacity so as to accommodate the requests. 
For better planning of the event & facilitation of our overseas Wahyanites in their flight arrangement, we are pleased to announce the start of Phase 1 registration confirmation & collection of payments from 1 Apr 2019:
Phase 1 payment process will be from 1 Apr 2019 to 30 Apr 2019 via year coordinators (year coordinators will collect payment from various participants & pay to OC before 30 Apr 2019)
OC's Ticketing Work Group will email the relevant bank account details to year coordinators separately
Only full payment is considered valid table sales. Unpaid registrations would be void after 30 Apr 2019 & the relevant year coordinators will have to register again in Phase 2
In case there is still available space in the venue, OC would announce details of Phase 2 table registration asap, probably in early May 2019

For registrations & enquiries, please submit your:
Name
Graduation year (F. 5 for HKCEE; F. 6 for DSE)
Email address
Contact number
Number of table(s)
to the following OC's Ticketing Work Group email:
WYHK
This email address is being protected from spambots. You need JavaScript enabled to view it.
Henry Yeung (WYHK '98)
Derek Lee (WYHK '01)
WYK
This email address is being protected from spambots. You need JavaScript enabled to view it.
Eric Lai (WYK '97)
Ryan Wing (WYK '03)
Donation and Sponsorship
"Our next task is to embrace all members of the Wah Yan Community under one roof, including our beloved Jesuits, retired teachers and staff members, so that they can enjoy a memorable casting of talents from both Schools. We also hope to transform the Dinner into a déjà vu brimful of memoirs of Wah Yan. In order to do so, we need stages with adequate audio and visual facilities; we also need creative design and modest decorations. Resource input of around $5 million is inevitable. Therefore, we would like to call on your generous help to fulfill these task orders as brothers in arms." Below please find the apeal letter and donation form:
May God bless all of us to have a memorable night in the Gala Dinner!
P.S. OC would post a list of year coordinators in due course for your reference. For parents & those Wahyanites who can't identify your year coordinators to form table(s), please leave your contacts via Online Enquiry Form (Google Form) https://goo.gl/forms/T0guQ7piDFVofWAn2. On a best effort basis, we would forward the forms received to your coordinators who'll assist you on registration. Please note the Online Enquiry Form isn't part of the registration process due to the preference of whole-table registration via coordinators at this stage
- 2019.06.29 - WY Transcending 100 Gala Dinner Organising Committee
International Reunion 2019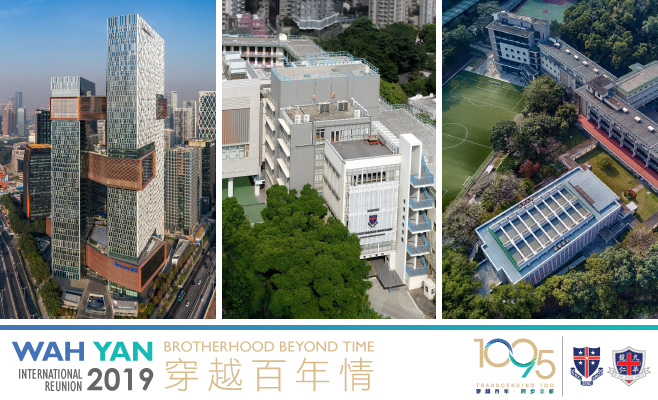 Background
Wah Yan International Reunion ("WYIR" and formerly known as Wah Yan International Conference) is one of the important events for Wah Yan alumni across the globe to meet together. The first Wah Yan International Conference ran in 1988 with the theme, Wah Yan Family Around the World. After that, WYIR holds every two years and has the following four key objectives:
To provide fellowship opportunities between local and overseas Wahyanites
To allow Wah Yan alumni all over the World to better understand the wellbeing of each other
To keep alumni informed about both Wah Yan Colleges in Hong Kong and Kowloon
To explore possible improvements on our Global Link networking
The 16th WYIR will be held in Hong Kong in November 2019 and co-organised by the past student associations of both Wah Yan Hong Kong and Wah Yan Kowloon.
Our Theme in 2019
"Brotherhood Beyond Time" "穿越百年情".
In celebrating 100th/95th Anniversary of Wah Yan Hong Kong/Kowloon across 2019/2020, we believe that '情' is one of the key elements to hold all Wahyanites together, wherever you stay after graduation.
Program
DAY ONE – Friday, 29th November 2019 (8:30am to 8:30pm, day trip)
Get together and explore GD-HK-Macau Greater Bay Area
Programs include:
Back to WYK
Lunch and Dinner in Shenzhen*
Visit the headquarter of Tencent Holdings 騰訊控股
Visit Futian district and return to HK by High Speed Train*
Distinguish Wahyanites to share insights of the GD-HK-Macau Greater Bay Area
* Please make sure that you have valid PRC Entry Permit Card(港澳居民來往內地通行證或俗稱回鄉證)or a valid PRC Travel Visa. We will require a copy of your PRC Entry Permit Card or Passport and PRC Visa to buy High Speed Train tickets in advance.
DAY TWO – Saturday, 30th November 2019 (9:00am to 5:00pm)
International Reunion (Conference and Activities)
Programs include:
WYHK, WYK, WYHKPSA, WYKPSA and overseas chapters sharing
論盡華仁……過去、現在與將來
Lunch in WYHK
Visit Jesuit Fathers resting at St. Michael's Catholic Cemetery, Happy Valley
Nostalgia spots/memories around Wah Yan Hong Kong campus
WYIR Mass in WYHK Chapel
DAY THREE – Sunday, 1st December 2019 (6:00pm until late)
Homecoming Dinner
Wah Yan 100/95 Anniversary Gala Dinner in Hong Kong Convention and Exhibition Centre
For Registration and Payment Procedures, please click here.
- 2019.06.12 - Armen Ho '93 (International Reunion 2019)
Full Match Schedule and Related Data
- 2019.06.03 - Chiwi Lai '97 (20th Wah Yan League Cup Football Tournament Organizing Committee)
20th Wah Yan League Football Tournament
Registration period for the new season of Wah Yan League Football Tournament is from 27 September to 11 October 2018.
Team captains' meeting will be held on 13 October 2018 at 1400 in Wah Yan College, Kowloon. Room number will be sent to participating teams by separate email.
For enquiries, please contact the 20th Wah Yan League Football Tournament Organizing Committee by email at This email address is being protected from spambots. You need JavaScript enabled to view it..
Highlights:
Each division will have 11 teams only and in first come first served basis.
Each participating team MUST have at least one representative in the team captains' meeting.
HK$13,000 fixed fee (including HK$11,000 enrollment fee plus the HK$2,000 refundable penalty deposit) must be deposited to the bank account of Wah Yan College Kowloon Past Students' Association Limited at HSBC with account number 808-024525-001 and the proof of payment (e.g. bank-in-slip) must be retained, scanned and emailed along with this enrolment application.
successful application refers to:

A completed soft copy (i.e. a Microsoft word file) of this enrollment form;
A scanned copy of the completed enrollment form signed by the Team Captain/Team Manager;
A scanned copy of the proof of payment (e.g. bank-in slip) mentioned above, and;
The submission of items i), ii) & iii) by emailing to the following address: 

This email address is being protected from spambots. You need JavaScript enabled to view it.

, starting from 27 September 2018 until midnight of 11 October 2018 (Hong Kong Time).
Download the required documents
- 2018.10.02 - Chiwi Lai '97 (20th Wah Yan League Cup Football Tournament Organizing Committee)
Lunch with WYKPSA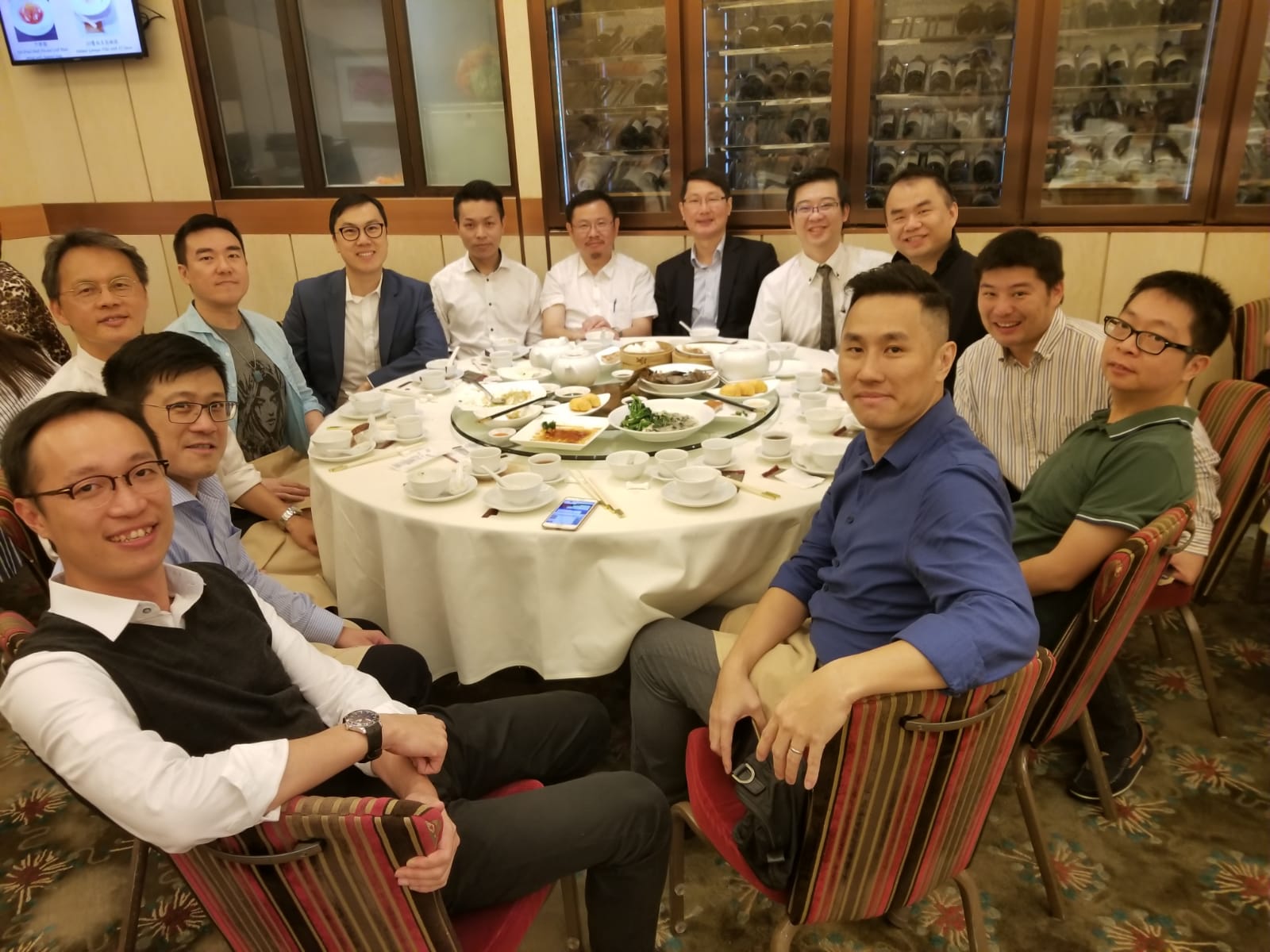 Welcome lunch for our brothers of WYKPSA - we are committed to continuing our bonding and pushing our joint events to a success.
- 2019.05.31 - Willie Cheng '80 (Chairman, WYHKPSA 2018-19)